Wayne Morse Political Cartoon Collection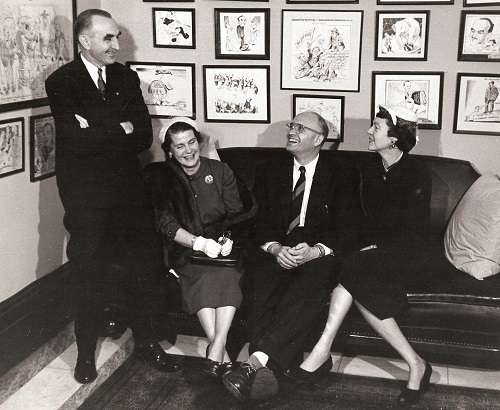 Wayne Morse enjoyed and collected editorial cartoons in which he was featured. His collection grew to 130 pieces, displayed in his Russell Senate Office Building suite and later at his Eugene home. It contains original drawings by 14 Pulitzer Prize-winning cartoonists, many of whom included personal inscriptions to Senator Morse.
WMHPC received the collection from the Senator's widow, Mildred, with a charge to put it on display. The former garage/rumpus room at the Edgewood Farm home was transformed by WMHPC and the City of Eugene into an exhibit space. Unfortunately, the space could not be climate or light controlled and after a few years the cartoons showed signs of deterioration.
Between 1997 and 2014, the Morse cartoon collection was on deposit at the Oregon Historical Society in Portland. OHS performed conservation work on the cartoons, providing black and white negatives for us to use in our interpretive work.
In 2013 Margaret Hallock, Executive Director of the UO Wayne Morse Center for Law and Politics, offered to help transfer the cartoons back to Eugene and develop an exhibit. Wishing the cartoons to be with the Senator's papers at the University of Oregon Library's Special Collections, WMHPC signed an agreement with Special Collections for the cartoons to be held in carefully controlled conditions at the UO Library. We retain ownership of the collection and have made it available for research.
A fall 2014 exhibit at the UO Library in connection with the UO Morse Center's Wayne Morse Legacy Series showcased 18 cartoons. We worked with the Center to select cartoons which offered an overview of the collection after its 17-year hiatus in Portland. To view the Center's exhibit, follow this link to the Morse Center website. WMHPC Board Members reconnected with Jack Ohman, editorial cartoonist for the Sacramento Bee, at a lecture prior to the exhibit opening. Ohman, who previously worked for the Oregonian, visited Edgewood Farm several years earlier to talk about the collection.
We're delighted the Senator's cartoons are home! We're especially grateful to Margaret Hallock for her extraordinary efforts in bringing this about and organizing the exhibit and to UO Special Collections for their willingness to provide a safe repository for the collection. WMHPC will continue to use copies of the cartoons in its work and feature them regularly in our newsletter. In the future, watch for new pages on our web site which reprise past WMHPC exhibits featuring Senator Morse's wonderful cartoons.
---
Another Horse on Senator Morse
Howard Fisher's August 14, 1951, cartoon for the Oregon Journal appeared after Wayne Morse's third serious accident with a horse. As Morse passed behind a mare in a friend's stable in Pennsylvania, the horse kicked him, fracturing his jaw and knocking out 10 teeth. Morse was treated for several weeks at Bethesda Naval Hospital, where his jaw was wired and he was put on a liquid diet. Nonetheless, he dictated correspondence from his hospital bed. In September, he was allowed to attend afternoon Senate sessions, much to the chagrin of some Republicans who had anticipated debates without him. Unable to travel to the Oregon State Fair, Morse asked friends to drive his sulky with his trotter, Sir Laurel Guy, in various class competitions.
---
Left: Scott Long's cartoon for the Minneapolis Tribune nicely sums up how Senator Morse often was viewed when he announced dissatisfaction with the Republican Party in 1953. Vowing that party would never dictate his vote or position on issues, Morse became a new kind of political animal as he went his independent way, eventually settling into the Democratic Party in 1955.
Center: Art Brimrose's cartoon appeared in the Oregonian on August 8, 1964, the day after the Gulf of Tonkin Resolution vote. He captures Morse's isolation and independence resulting from his opposing vote as the political world, united in support of the South East Asia Resolution, spins away from him.
Right: Oregon Log Jam: Filibusters in the past required participants to hold the Senate floor continuously, thereby delaying consideration of other legislative business. Gib Crockett of the Washington Star demonstrates how Senator Morse's Telstar satellite bill filibuster affected the Senate's work during the summer of 1962, comparing it to a log jam on an Oregon river.